Effective July 2018, Google SSL requirements were enforced by flagging sites without SSL as unsafe in Chrome.
This update goes beyond adding it to its list of ranking factors only. It fundamentally changes the way web users think about their online security.
SSL certificates are designed to make users feel secure while using the internet. Without them, you could be jeopardizing your business, as well as your customer's sensitive data.
What is an SSL Certificate?
Put simply, an SSL certificate is a text file with encrypted data that you install on your server. This allows you to secure/encrypt sensitive information and communications between your website and your audience. Many think of it as their electronic passport.
SSL stands for 'Secure Sockets Layer,' and when a website owner has one, all data passed between web browsers and servers remains private and encrypted.
Without valid certificates, websites cannot establish a secure connection with web servers, meaning that users will not be digitally connected to a cryptographic key. This puts your company's and your customers' information at risk, especially considering current cybercrime trends. As a result, the lack of SSL and HTTPS could potentially damage your brand image.
People will avoid purchasing from you or even signing up to your newsletter through fear of having their details stolen. Your conversions will plummet.
One of the most important things in business is to make customers feel like they are visiting a trusted, reliable website where making purchases is safe. SSL establishes a secure connection which then reassures your visitors using visual cues.
Seeing the lock icon or green bar when visiting a site can automatically make a visitor trust your company and take the next step in making a purchase.
SSL Certificates are no longer optional with Google
Purchasing and installing SSL is no longer something that online business owners can ignore. Google chrome is set to mark sites as insecure if they do not follow the steps above.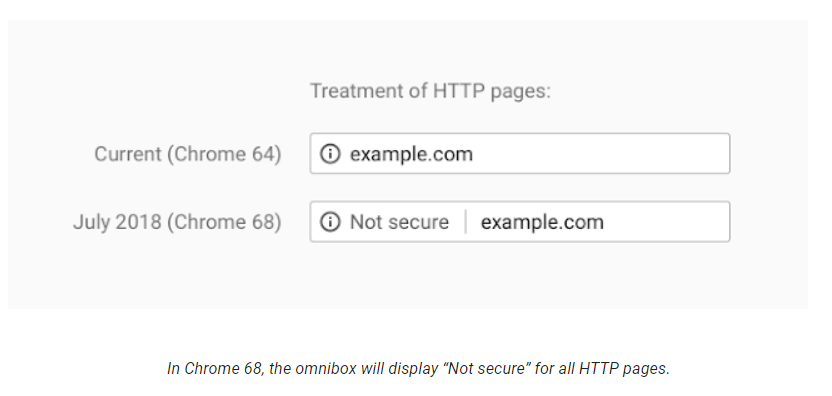 Sites without secure connection will be labeled as 'Not Secure,' and perhaps even blacklisted. Those all-important visual cues will not be in a surfer's address bar to reassure visitors to your site, and you will likely lose them because of this.
Without an up-to-date, validated SSL certificate, you can only damage your position in Googlesearch results. However, there is more to it than making the search engine like you. Without a secured connection, you are putting your whole business and brand reputation at risk.
SSL Solution
Taking advantage of CountryTyme's Free SSL is easy. Enabling (or forcing) the SSL will give your domain an "HTTPS://" prefix, which ensures your website will be labeled as "secure" in most web browsers.
The Free SSL lasts for 90 days from issuance and renews automatically at no cost to you so your site hosted with CountryTyme should never be without an SSL.
If you do have an existing paid SSL certificate installed it will not be affected and will remain active. Any expired paid SSL certificate will automatically convert to the Free SSL if the domain has not opted-out.